Santa Cruz 10K Run/Walk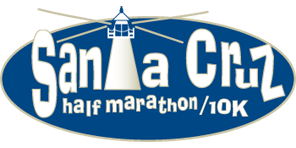 The Santa Cruz 10K Run/Walk consists of a 6.2-mile journey along scenic West Cliff Drive past breathtaking vistas of the Pacific coastline. Runners make their way to edge of Natural Bridges State Park and turn around on Swanton Ave. to retrace their steps back to the finish line festivities on Cowell's Beach just a stone's throw from the start line.
Start Time
8:15am
Turn-By-Turn
Start at Beach and Main Streets – 0
Up Beach Street Hill to West Cliff Drive – .2 miles
West Cliff Drive – .2 to 2.8 miles
Right turn on Swanton Blvd. – 2.8 miles
Turn around at Quintana Ct. – 3.1 miles
Left onto paved path on West Cliff Drive – 3.6 miles
Paved path on West Cliff Drive – 3.6 to 6 miles
Right turn through Cowell's Beach parking area – 6.1 miles
Finish on the beach – 6.2 miles
The Course will be managed at a 15 minute per mile pace. Strollers are allowed on the 10K course but must start at the back. Dogs are not allowed on the either the 10K or the Half Marathon course
Aid Stations
Aid will be provided at the start, finish and at two course aid stations located near miles 2 & 4.
Start Zone on Beach Street (Water)
Station 1 on West Cliff (Water)
Station 2 on West Cliff (Water)
Finish Line on the Main Beach (Water, Food)
Your Race Fee Includes:
Race Bib
Commemorative Finishers T-Shirt
Post Race Food & Refreshments
Online Results
Results
Race results will be posted near the finish line and online from the Results Page of the event website after we are done cleaning up following the event.
Awards
Top three male and female finishers overall as well as the following seven age divisions will receive awards:
19 and Under
20 Somethings
30 Somethings
40 Somethings
50 Somethings
60 Somethings
70 plus
Photos
Professional race photos will be supplied by myEPevents.com. Shots of you in action will be available to view typically one week after the event. You will receive email notification when your proofs are ready to view, otherwise, please check back on the Photo Page of the event website.